It's been a busy few months for the Quenchers team. We have taken the Quenchers Juicery stall to lots of events, some revisited and some new ones.
Ted X Noosa at The J was another great success for all concerned. Our fresh, healthy selection of salad wraps kept the delegates fueled throughout the day and many people were happy to be eco friendly by pedaling their own mango or banana dairy free smoothies on our smoothiebike. The installation "Land's Edge" formed from our range of energy balls and slices disappeared in record time!
Teddy Bears Picnic was a new event for us to be involved with and despite rain before and after the sun shone for all the families that came down to The Lions Park on Noosa river for a morning of kid focused entertainment. Face painting, storytelling, rock art and of course our smoothiebike were all popular.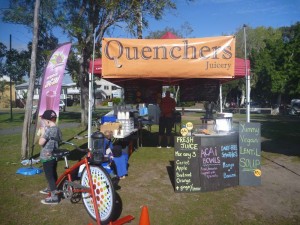 King of The Mountain was a s hot as a Summer's day and we were busy all day keeping contestants and spectators refreshed with a range of fresh juices and dairy free smoothies. The winner, Hayden, even wanted to pedal his own smoothie on our smoothie bike just after he had run the race in less than 25 mins!