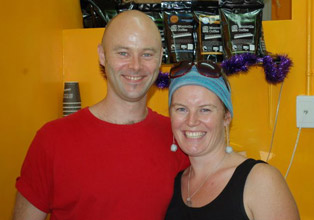 We are Baz and Tash.
Baz – Master Barista, juice mixologist, wrap artist, purveyor of lame jokes.  Baz is an all-round drinks expert.  His long and often illustrious career has seen him Barista in Bondi Beach, mix cocktails inLondon and be a drink stylist for world famous spirits brands.
With a natural flair for making great coffee, Baz is often referred to as a 'Drink Geek' and he wouldn't have it any other way….
Tash – Wrap artist, baker of treats, Earth Mother, Baz's better half.  Tash is responsible for baking Quenchers sweet treats and chocolate goodies.  Her fruit toast is awesome and her banana bread is a Quenchers favourite, served toasted with honey and banana.
She also has one of the biggest smiles in Noosa to welcome you with.  Really!